PrecisionCraft Log & Timber Homes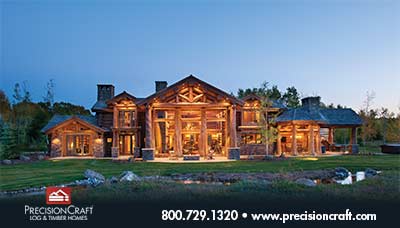 Booth: 652
#300, 2891 Sunridge Way NE
With more than 30 years of experience, PrecisionCraft Log & Timber Homes has earned a reputation for creating the world's most distinctive mountain style homes for their clients by combining extraordinary design with authentic log and timber construction.
Using a team approach, PrecisionCraft's Total Home SolutionSM (THS) offers you peace of mind, a streamlined design and construction process, and limits the costly effects of transitioning your project between vendors. Working on your project from start to finish, your THS team of experts includes an in-house client representative; a degreed architect from the in-house, award-winning design firm, M.T.N Design; and a dedicated project manager. Together, this team ensures that your dream home is designed to meet your needs and your budget. Once your home is designed, PrecisionCraft precisely mills the logs and timbers for your home and oversees the install of them at your build site.
Begin your custom home journey today by visiting www.PrecisionCraft.com where you will find a photo gallery as well as 65+ floor plan concepts designed to inspire you.