Sponsor Spotlight: Busy Beaver Construction
Feb 19, 2019, 13:22 PM
We're excited to have
Busy Beaver Construction
as the Official Deck + Fence Sponsor of the Calgary Home + Garden Show, happening February 28-March 3, 2019 at the BMO Centre. Before you visit Busy Beaver Construction in Booth #549, enjoy our brief interview below.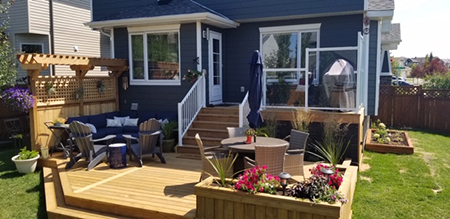 How does your service/product work?
We specialize in custom decks and fences. Generally a client will meet with our Project Manager for a FREE onsite estimate, where we will find out what the customer is looking for in their backyard space. We will generally offer our suggestions based on the layout of the yard and our many years of experience in the industry. When a customer chooses Busy Beaver, you get us from start to finish. Our dedicated, and very highly experienced crews start the job and are onsite until it is completed. The finished product is one you will be happy with for years. Owned and operated now in Calgary for 20 years this year, we plan to create many more outdoor spaces for Calgarians in the years to come.
What can we look forward from you at the show?
We always like to show a wide range of what we do and can offer at the show. We try to keep the display simple as not everyone is looking for something extravagant in their backyard space. Some people are looking for a simple deck or fence that will still add value to their yard and be useable in their space. We want people to know that we do cater to any lifestyle and budget, and this is something we really want them to know when they come and see us at our booth. Our display will feature a larger Pergola, which have become popular in that past 5 years. You will also see a large composite deck in various colours using Timbertech. I like to show the various colours on a larger scale, so people can see what it will look like on a deck vs. a small sample.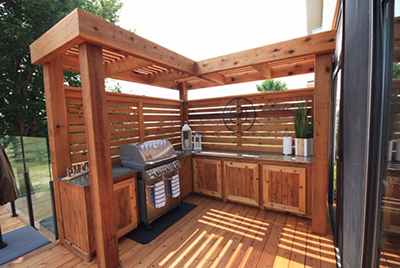 What advice do you have for homeowners?
A deck or fence can be a large investment, so do your research and make sure the contractor you are hiring is reputable. A lot of people will search for the cheapest price, and I get that, it's human nature. But the best price is not always the right decision when investing money into your property. I have met so many customers in my 20 years who have been left with an unsafe deck, or the contractor has left with their money and left them with 50% of the job completed. Sometimes that little extra cost to hire the right contractor who you know has a great reputation and will build you a quality product is worth it. Look to see if they are on BBB, read reviews, see how long they have been in business. "The bitterness of Poor Quality remains long after the sweetness of low price is forgotten"
What is your favourite part of the show?
We really enjoy talking to people. We probably talk to 800+ people throughout the 4 days, and it's just interesting seeing what people are looking for and showing what we have to offer. You run into so many of the same people year after year, and past customers come by and visit, and it's nice to hear how happy they are with their experience. The show is really the kick off to the start of the season, so we are very excited to be there.
What design trends are you anticipating for 2019?
With the economy and real estate, the way it is right now in Alberta, we see a lot of people renovating their current homes in the next 5 years. More people will invest money into their outdoor space to add value to their current home. As for deck design trends, low maintenance options have become the key trend in the past 3-5 years. People are tired of spending most of their summers maintaining wooden decks, and composite decking has come along way in the past 10 years. Pergolas and screened outdoor spaces will be widely popular, as more people are looking to have something to create shade or privacy, and allow them to use their outdoor space more often.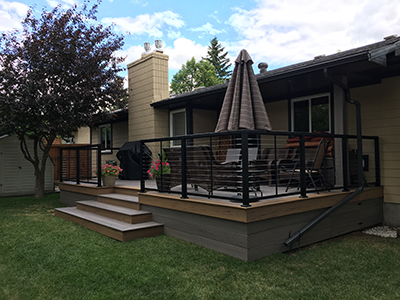 What folks can expect when they work with you?
People can expect a quality product that will last them many years. We have customers that have used us several times over the past 20 years, as they have moved and were extremely happy with our product. Our clients are provided excellent service throughout the entire building process, and we are there whenever questions or concerns arise. With us they can be sure their investment is with the right contractor, and that we will be around for many years long after their project is complete.
The Calgary Home + Garden Show returns to the BMO Centre February 28-March 3, 2019. Don't miss your chance to connect with hundreds of home experts like Busy Beaver Construction. Start planning your visit now!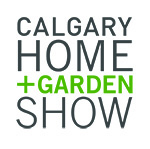 FEBRUARY 28-MARCH 3, 2019.
BMO CENTRE