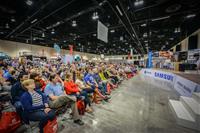 Home + Garden Stage presented by Golden Acre and the Calgary Herald designed by WW Design Studio
Make it Yours. From paint colour to furniture, landscaping to functionality, your space is all about you. Get inspired by Canada's most popular designers, gardeners and home improvement specialists on the Home + Garden Stage. Celebrity presenters including HGTV Canada's Todd Talbot of Love It or List It Vancouver and outdoor lifestyle expert and landscape designer Carson Arthur, along with a line-up of local favourites to deliver insight to up your home and garden game.
Todd Talbot (HGTV Canada's Love It or List It Vancouver)

Carson Arthur (HGTV's Home to Win)

Helen Youn, Certified Konmari Consultant

Calgary Horticultural Society

Neil Harding, Sleep Country
Chelsie Anderson, Chelsie's Garden Soil-utions

Janet Melrose, Calgary's Cottage Gardener

Alison Lang, Realtor

Kathy Yuen, Phase One

Tricia Juricic + Michelle Beaudoin, Superior Cabinets
Sarah Sandeman, Gioia Interiors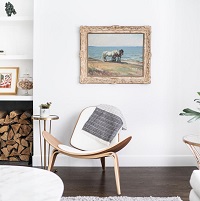 DIY Living Space designed by Hella Design Studio presented by Rust-Oleum Canada
Make it yours! Refreshing and renovating a space doesn't have to mean losing your home's character and personality. Check out how Calgary's own Hella Design Studio revamped a living space by mixing high end furniture with unique DIY decor projects and
Rust-Oleum
paints. Get inspired to get creative and find ways to incorporate your own at-home DIY décor into your renovation!
Designed By: Presented By: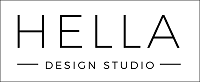 New York Loft Lounge designed by Rochelle Cote Interior Design
Now you're in New York! Get ready to be instantly transported to an ultra-cool, Instagramable NYC-inspired loft lounge space, designed by Calgary's own
Rochelle Cote Interior Design
. Draw inspiration from the centre of style and imagine yourself bringing a little Upper East Side influence home.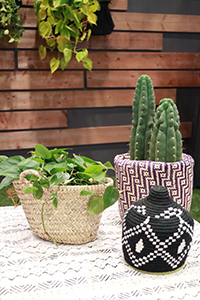 Fabulous Foliage: I'm Mr. Fabulous by Golden Acre presented by LOLA Architecture, Turnkey Renovations and Mountain View Building Materials
Greenery in the home has never been more Fabulous! From cool cacti to stylish succulents and the must-have fiddle leaf fig tree, plants are on-trend and bring life to your home décor. Learn about plant care and how to punctuate the spaces in your home with the latest in lush, green plants from Calgary's loved lifestyle expert Ryan of I'm Mr. Fabulous and the experts at Golden Acre.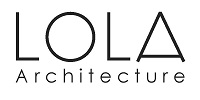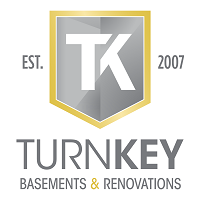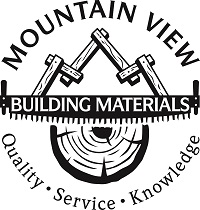 Flooring provided by: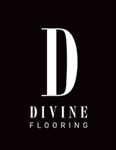 Sleep-In Style: One Bedroom, Three Ways designed by Gioia Interiors supplied by IKEA
Close your eyes and imagine the bedroom of your dreams! When you wake up, head straight to Gioia Interiors' Sleep-In Style: One Bedroom, Three Ways. Calgary interior designer Sarah Sandeman has created three uniquely stylish sleep sanctuaries, each with a distinct theme - Masculine Farmhouse, Chic Coastal, and Bohemian - all from one simple IKEA bedroom! Sarah's designs will have you wanting to crawl in and dream of your next bedroom makeover.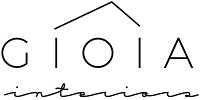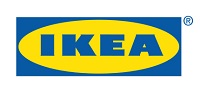 Versatile Vignettes designed by Neelam Interiors
Style every space in your home like an interior designer after an inspiring stop at Versatile Vignettes, designed by Calgary's own Neelam Interiors. Explore seven unique vignettes and through a designer's eye, learn how to achieve magazine-worthy layering of luxurious textures, incorporate colour and pattern and balance scale and size in a home seating area, breakfast nook, bookshelf, entryway, bedside table, bar and mudroom.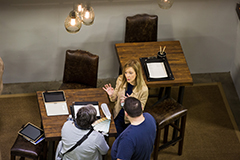 Ask An Expert presented by Inside Out Design Studio
Every successful construction project starts the same way – with a well thought out plan! Thinking through the problems during the planning phase versus stumbling through problems during the construction phase. So, gather your Pinterest dream boards, paint swatches and floor plans and head straight to Ask An Expert for a free, 15 minute one-on-one consultation with an on-duty expert designer, engineer, tradesmen, millworker and more. No appointment needed! In just 15 minutes, their expert advice will help you to draft your blueprint for success.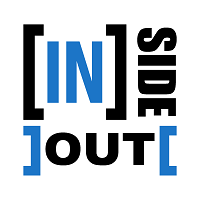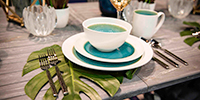 Tablescapes presented by Revolve Furnishings
Fork to the left? No...was it the right? How many spoons do we actually need? Take the pressure off dinner "rules" and turn your guest's focus to your fabulous design skills! Bring the WOW factor to your table by elevating your hosting skills from lunch to dinner with Tablescapes!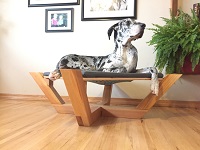 New Leash on Lifestyle
Put your paws up! Step inside a designer doghouse and curl up on the couch at New Leash on Lifestyle, featuring fun, stylish and pet-friendly furniture and décor for our furry friends who deserve the finest in life! Learn about the hottest trends in pet furniture and how you can incorporate them into your home décor.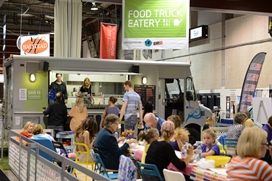 Food Truck Eatery
Foodies take note! YYC's favourite rolling restaurants are making a pit stop. Score top-notch eats from the king's of Calgary's latest food craze, including Taiko Taco, Dumpling Hero, Zilford's, Take it and Go and Wilk's Booth. Follow the scent of sweet and savoury goodness just outside Hall E to get your fix, then take a seat in the Food Truck Lounge to dig in and enjoy.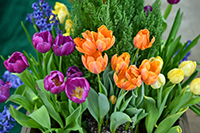 Fresh Floral Feels: A Living Wall by Cory Christopher
Step right into spring with a stop at renowned Alberta floral & lifestyle designer Cory Christopher's latest luxurious blooming installation: a wall created entirely of fresh florals and greenery! You won't want to miss this stunning, selfie-worthy spot. You'll leave feeling inspired and ready to bloom into the new season.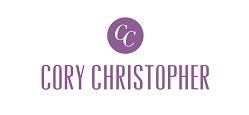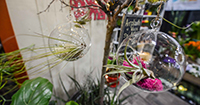 Living Design by Cory Christopher
Breathe new life into your space with inspiration from floral designer Cory Christopher. Part workshop, part boutique, and part creative studio, pop by for a consultation or take a terrarium planting workshop to flex your green thumb just in time for spring. A regular on Citytv's Breakfast Television, Cory and his team will walk you through the ins-and-outs of creating your own plant masterpiece using unique succulents and plants, all while helping you unearth your inner creative artist.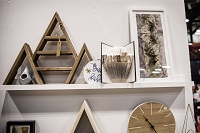 Outside the Shape
Indulge your creative side + curate your home to perfection at the boutique space from Calgary favourites Outside the Shape. Step inside Outside the Shape's beautifully curated boutique space and shop from locally crafted home goods, beauty + wellness finds and more.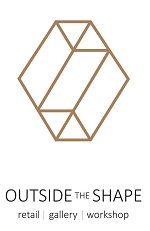 But First, Coffee Lounge
But first, coffee! Don't dive into those design plans until you've stopped by the coffee lounge to fuel up with a fresh cup of coffee or latté from Calgary's own Rosso Coffee, or - why not - dip into a delicious gelato from your favourites at Fiasco.
• Rosso Coffee
• Fiasco Gelato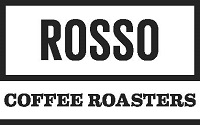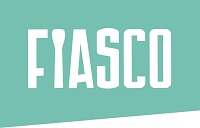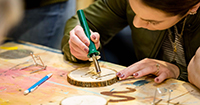 Pinnovate Workshop Series
Get creative with Pinnovate, Canada's first DIY Studio! Get hands-on with help from the Pinnovate pros and try your hand at fun, trendy DIY workshops for all ages, from boho wall hangings to splatter painting and Harry Potter wooden sign! Find out more, register here and choose from a variety of workshops taking place at the BMO Centre from February 28 – March 3.
Click
HERE
to see the Schedule!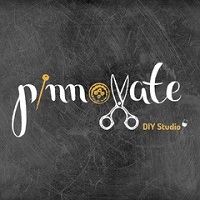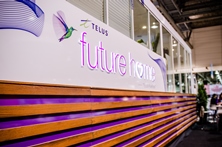 TELUS Future Home

The future is here, now with the TELUS Future Home, powered by the TELUS PureFibre™ network. In partnership with communities throughout Western Canada, TELUS is building a fibre optic network that will revolutionize the way we live our lives. With blazing fast speeds of 150 Mbps uploads and downloads, you'll enjoy the most consistent and reliable connection, the ability to watch streaming video in ultra-HD quality, and more. The 560-square-foot Future Home showcases how TELUS Fibre can enhance one's lifestyle through a variety of exciting, forward thinking technologies. Some are available today, others are simply possibilities for tomorrow. TELUS PureFibre. Internet Reimagined.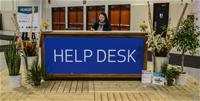 Help Desk
Need some help finding your way around the show? Want to know what time your favourite stage presenter is on at or looking for some good eats at the show? Chat with an expert at the Help Desk located by the Hall B entrance or Hall E entrance.