Welcome to the Calgary Home + Garden Show!

Home improvement projects can be tough but we are here to cut down the stress and guesswork for you! The Calgary Home + Garden Show has gathered the best in the biz: everyone from celebrity contractors, innovative interior designers, master landscapers, and knowledgeable brands will help you bring your home and garden dreams to life. Over an exciting 4 days you will be armed with helpful tips and tricks from our trusted experts that will have you feeling like one of the pros.

Bryan Baeumler is back! He will be on the Home + Garden Stage, presented by RBC, on Friday, Feb. 28 and Saturday, Feb. 29, teaching you how to navigate everything from new builds and aesthetics makeovers to update and add value to your home. The Show has a number of stellar presenters that will equip you with the knowledge to execute even the toughest projects. Come check out all of your favourite local experts and other exciting Show features to kick start your spring projects.

Get inspired by the innovative presentations on the Avanica Home + Garden Stage presented by HGTV Canada and Golden Acre. The Show is full of new features that bring you the most current ideas and tools to inspire and teach on the forever-changing trends in home improvement. Don't forget about our Ask An Expert feature for one-on-one consultation for specific questions you may have about your own home improvement projects. Think big when it comes to your home goals because at this year's Show we will supply you with the inspiration and the tangible tools to make it into a reality. Don't miss the Calgary Home + Garden Show, taking place at the BMO Centre, Stampede Park.

We look forward to having you!

Micheline Picot, Show Manager
Top Features
Avanica Home + Garden Stage presented by HGTV Canada, Golden Acre and Calgary Herald
Ask the expert and leave out the guesswork at this year's Calgary Home + Garden Show taking place February 27 – March 1, 2020, at the BMO Centre, Stampede Park. A stellar lineup of home improvement-gurus are ready to give you the most current tips and tricks for your home and garden projects. Our presenters include everyone's favourite Celebrity Contractor, Bryan Baeumler of HGTV Canada, presenting his personal stories and practical advice on Friday, Feb. 28 and Saturday, Feb. 29. Think of any room in your home and we have it covered! From basements to bathrooms to flooring and faucets, find great deals, new products, and expose yourself to new trends all at this year's Show.
Ask An Expert
Every successful construction project starts the same way – with a well thought out plan! Thinking through the problems during the planning phase versus stumbling through problems during the construction phase. So, gather your Pinterest dream boards, paint swatches and floor plans and head straight to Ask An Expert for a free, 15 minute one-on-one consultation with an on-duty expert designer, contractor, home builder, painters and more. No appointment needed! In just 15 minutes, their expert advice will help you to draft your blueprint for success.
#ColourStories designed by Dayle Sheehan Interior Design
Explore the 'coolest' colours of the season and find your favourite hues with #ColourStories. Wander through vibrant vignettes filled with bold colours and lively shades for every taste in an Instagram-worthy space designed by Dayle Sheehan Interior Design. Say good-bye to boring and bring home bold and stylish swatches to brighten up your home this spring.
The Green Lounge designed by Rochelle Cote Interior Design
Chill out like the star you are while you treat your taste buds at The Green Lounge. Sip on a drink, savour the moment and get inspired by all things tropical as you surround yourself with lush foliage in this stylish space, designed by Rochelle Cote Interior Design.
Prairie Girl Flowers Floral Truck
Fill up on spring flowers from the Prairie Girl Floral Truck! Shop from a selection of fresh blooms all grown in B.C., including beautiful hand-tied bouquets or custom-created arrangements and bring home spring!
But First, Coffee Lounge
But first, coffee! Don't dive into those design plans until you've stopped by the coffee lounge to fuel up with a fresh cup of coffee or latté from Calgary Heritage Roasting Company.
Tree Auction presented by Countryside Landscapes and Garden Centre
Bid on one or two of these fabulous trees provided by Countryside Landscapes & Garden Centre. 100% of the proceeds will go to benefit Youth Central. Auction closes at 6pm on Sunday, March 1.
Workshop Series designed by Simply Styled Inspo
Get hands-on with some of Calgary's finest makers, artisans and craftspeople with our vast selection of exciting workshops at Workshop Series. From bath scrubs, bath trays to florals and more, workshop attendees will learn a new skill, all while creating a unique piece of décor they get to bring home.
DIY Demos: The Outdoor Edition presented by SAIT
Skill Up for spring with SAIT Experts at DIY DEMOS: The Outdoor Edition. At this year's Calgary Home + Garden Show Show, SAIT is back with DIY Demos where you'll get expert advice on everything to make the outside of your home spring-ready! From patios and benches to planters and railings, your outdoor space is about to get an upgrade with the help of SAIT experts. You'll learn from some of Alberta's best in the business and walk away with easy how-to fixes to take your patio or backyard to the next level. And, who knows, you may even be inspired to turn your talent into a career. Learn more about our diplomas, degrees and apprenticeship programs at sait.ca.
Get creative and curate your home at this beautiful boutique space from one of Calgary's favourites, Outside the Shape. Inside this perfectly designed spot, you can shop locally crafted home goods, beauty products and more.
Garden Corner - product provided by BURNCO Landscaping Centre and Blue Grass Nursery, landscaping and carpentry by Tatebe Outdoor Living
After exploring the latest trends in home, design and landscaping take a moment to soak in some green-spiration and grab a seat at our gorgeous Garden Corner. Located near the help desk in Hall D, our Garden Corner is an idyllic spot to rest your tired feet.
Backyard Oasis - product provided by BURNCO Landscaping Centre and Blue Grass Nursery, landscaping and carpentry done by Capt'n Crow Landscaping
Step into a grand 1,000 sq. ft. Backyard escape with Backyard Oasis. Whether you have a bare balcony, yawn-worthy yard or forgotten foliage, you will gather inspiration to spice up any outdoor space this spring. You'll be saying hello to your very own backyard oasis before you know it.
Temporary Treatments designed by Avid Interior Design
Having trouble committing to a certain design? Or maybe you just want to save a bit of work when it comes to your spare spaces. Limitations with painting, nail holes, and remodeling may be holding your space back from its true potential… until now! Designed by Avid Interior Design, we've rounded up some of the best non-permanent and non-damaging décor tips – from hanging pieces with command hooks to removable wallpaper. Have a look through this feature to get all the inspiration needed to take your space from woe to WOW, no matter how long you plan to commit to it! 
Food Truck Eatery
Foodies take note! YYC's favourite rolling restaurants are making a pit stop. Score top-notch eats from the best of Calgary's latest food craze, including Happy Fish, The Dumpling Hero, Taiko Taco and Waffles & Chix. Follow the scent of sweet and savoury goodness just outside Hall C to get your fix, then take a seat in the Food Truck Lounge to dig in and enjoy.
TELUS
As the TELUS PureFibre network rapidly rolls out across Western Canada, TELUS created a condo-sized concept home to show Canadians what will be possible when homes are connected at light speed. The TELUS Future Home – now on display at the Calgary Home + Garden Show – showcases some of the most cutting-edge home technology on the market today and provides a sneak peek at the smart-home innovations of tomorrow.
BBB Help Desk
Need some help finding your way around the show? Want to know what time your favourite stage presenter is on at or looking for some good eats at the show? Chat with an expert at the Help Desk located by the Hall B entrance or Hall E entrance.
Meet The Experts
Bryan Baeumler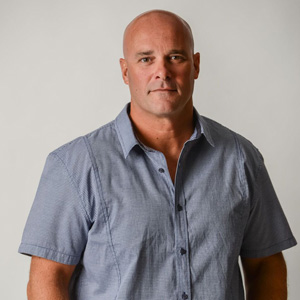 Celebrity Contractor
Instagram: @bryanbaeumler
Twitter: @Bryan_Baeumler
Bryan doesn't believe he's put in an honest day's work unless he gets his hands dirty. A natural-born teacher, the Gemini-award winning host has been educating and entertaining viewers across Canada and in 23 different Countries Worldwide since 2007 on the hit shows Disaster DIY, Canada's Handyman Challenge, Leave it to Bryan, House of Bryan, Bryan Inc. and Island of Bryan. Bryan's quick wit and easy-going personality have made him a huge hit with viewers on all of his home renovation shows.
Learning valuable tricks of the trade from his father, a meticulous aircraft engineer, Bryan spent his childhood summers building his family's cottage from the ground up. After earning a degree in Political Science and studying Business, Bryan was headed towards a career of practicing law. Realizing he'd rather be renovating than being chained to a desk, his innate passion for building took over and he attended construction courses at George Brown College, officially traded in his tie for a tool belt and founded Baeumler Quality Construction.
A few kids and a number of hit TV shows later, Bryan continues to tackle home renovation projects, be the spokesperson for numerous products and expand his growing businesses to include Baeumler Productions, Baeumler Approved and Baeumler Custom Cabinetry among others. Currently filming season 2 of Island of Bryan with wife Sarah, viewers watched season 1 in record numbers, while they restored a small abandoned resort on South Andros Island in the Bahamas! In Island of Bryan, we follow the story of this radical life event for the Baeumlers, from a dream of creating and running a luxury boutique resort in paradise, to the reality of leaving their friends, family and life behind to take on their most challenging build yet. For more information about Bryan, visit bryanbaeumler.com
See Bryan Baeumler, presented by RBC on the Avanica Home + Garden Stage presented by HGTV Canada and Golden Acre
Friday, February 28 at 6:00 p.m
Saturday, February 29 at 12:00 p.m.
SHOW SPONSORS
RenovationFind
Sleep Country
Golden Acre
BBB
HGTV Canada
RBC
Cloverdale Paint
Bath Fitter
The Landscape Artist
Avanica Furniture Inc.
SHOW CHARITIES & PARTNERS
Habitat for Humanity
Rochelle Cote Interior Design
Countryside Landscapes & Garden Centre
TELUS
Youth Central
Outside the Shape
CertaPro Painters
Nick Carr Construction Services
Simply Styled Inspo
Dayle Sheehan Interior Design
Big Guy Productions
BURNCO
Capt'n Crow Landscaping
Tatebe Outdoor Living
SmithErickson Designs
Avid Interior Design
SAIT
Simply Styled Inspo
Oh Snap! Photo Camper
Vanja Kragulj Illustration
DYP
Refillery
Two Queens Home
Prairie Girl Flowers
MEDIA PARTNERS:
Postmedia
CREB®Now
Global
CTV Calgary
Horticultural Society
98-5 VIRGIN Radio
JACKFM
Country 105
CJAY 92
XL103
Q107
Newstalk AM770
Soft Rock 97.7
The Vitals
What: Calgary Home + Garden Show

Where: BMO Centre, Stampede Park
20 Roundup Way SE, Calgary, AB T2G 2W1

When:
| | |
| --- | --- |
| Thursday, February 27 | Noon - 9PM |
| Friday, February 28 | Noon - 9PM |
| Saturday, February 29 | 10AM - 9PM |
| Sunday, March 1 | 10AM - 6PM |
Buy tickets online at calgaryhgs.com and save $2 on the price of entry

Admission:
| | |
| --- | --- |
| Adults (13+) | $16 |
| Adults (13+) ONLINE | $14 |
| Seniors (60+) | $13 |
| Seniors (60+) ONLINE | $11 |
| Seniors (60+) Friday before 5PM | $7 (Box Office + Online) |
| Children 12 and under | FREE |

Social:
Blog: https://calgaryhgs.com/blog-social
Twitter: @YYCHomeShows #CHGS20
Instagram: @YYCHomeShows
Facebook: facebook.com/homeandgardenevents

Media Contact:
Claire Henwood, Account Lead
Reformation.
604.681.7565 x106
claire@wearereformation.com